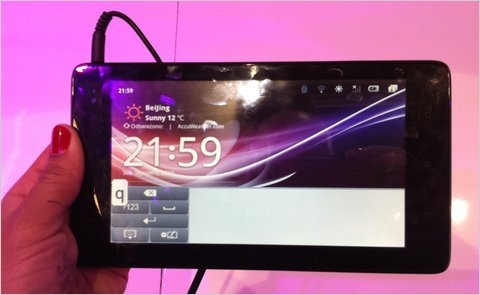 Beijing February 15, according to foreign media reports, Huawei held Monday in Barcelona, Mobile World Congress (Mobile World Congress) in the show two tablet. Among them, one called "S7 Slim" 7-inch Tablet PC, priced at only 300 dollars.
in the Mobile World Congress in this session, various manufacturers have introduced the latest Tablet PC. These products have some common characteristics: bright, shiny surface, thin, fast processor, and the use of Android operating system. There are also a common attribute: there is no clear price.
but with these vendors, Huawei wants to distinguish between these rivals. Huawei launched the two tablet. Including one called the S7 Slim, using the Google Android operating system, and 7-inch display. The Tablet PC with both front and rear camera, built-in 1GHz processor. Huawei is expected this year in Best Buy retail stores will sell the product, cost about 300 dollars. At the same time, Huawei also launched a 10-inch Tablet PC, and Apple iPad look very similar.
marketing department of Huawei spokesman Eric French ska Dirui (Alix Khadiri) said, "our brand may not be accepted by most American consumers , but our prices are to be accepted by them. "Kadi Rui said that Huawei can hope that their tablet PC this year by Best Buy and other retail outlets outside.
Huawei Yan, global head of corporate communications of light before (Ross Gan) also said that Huawei's ability to cut costs, because Huawei did not like the other peer into huge advertising expenditures. He said, "We will not result in product advertising and product costs, our goal is to provide consumers with product value."
3